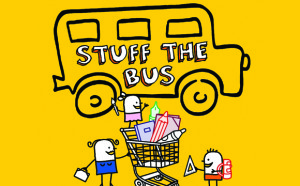 Listen to Laura Johnson's radio interview with Darlene Brown airing on WNOS 97.1FM and 1450AM or listen below to learn more:

As school begins, school supply lists are made available to students and parents, but not all students are able to arrive the first day of school with the items required to put them on the road to success; some parents simply can't afford to purchase the items needed.
To assist those students, Partners In Education, in partnership with Craven County Schools will have bright yellow school buses and colorful totes set up in front of the three Walmart Stores in Craven County on August 15, 2015, from 10:00 am – 2:00 pm (New Bern – 3105 Dr. M.L. King, Jr., Blvd. and 2915 Neuse Blvd., and Havelock – 566 U.S. 70).  Generous shoppers can donate school supplies for students who have been identified as in-need by their school counselors
Volunteers from the schools and our community will be on hand and honking the horn of the school bus each time a donation is made as a way of showing thanks.
A shopping list will be available the day of the event, is currently available on the PIE website at www.CravenPartners.com, and is listed on the individual schools' website.
For those who can't make it to the event, many sponsors have agreed to be drop-off locations, and will collect items until Wednesday, August 12.  They are – in Havelock: Havelock Chamber of Commerce at 201 Tourist Center Drive; in New Bern: BB&T at 375 S. Front Street, Century 21 Zaytoun-Raines at 312 S. Front St., Wells Fargo at 401 S. Front St., and Joe Alcoke Auto & Truck Service at 3405 Dr. M.L. King, Jr., Blvd.
Last year, through the generosity of our community, Partners In Education received $19,000 in donations and was able to assist over 450 students. Based on this success, Partners In Education is recruiting the help of all our community partners so that we are able reach even more students this year.
For more information about this event, or how you can support PIE, contact Darlene Brown at 514-6321, or at Darlene.Brown@Craven.K12.nc.us. Visit the PIE website at www.CravenPartners.com to learn more about the programs offered by Partners In Education.
Partners In Education is an educational foundation that provides grant funding and special programs to classrooms and schools within the Craven County Schools system.  Since 1988, PIE has been changing the lives of students and families in our community.
Information provided by Darlene Brown.
Tell us what you think by commenting below or sending us an email. Visit New Bern Now's Facebook page or sign up for the latest updates by submitting your email address in the right margin on New Bern Now's website.
Wendy Card