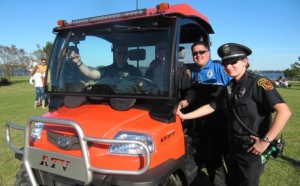 Community invited to celebrate America's Night Out Against Crime
Tuesday, August 4th is National Night Out…an annual community-building campaign that promotes police-community partnerships and neighborhood camaraderie to help make New Bern a safer, stronger, better place to live, work, play, and raise a family. Together, we are making that happen. National Night Out enhances the relationship between neighbors and law enforcement while bringing back a true sense of community, and provides a great opportunity to bring police and neighbors together under positive circumstances. This year, we invite you to participate in National Night Out and to help give crime a going away party.
More than a dozen communities have already registered to participate in this year's National Night Out (NNO) with planned neighborhood activities and events. New Bern Police Department officers and staff will stop by each of those communities to meet residents, discuss concerns, enhance communication and partnerships, and participate in the celebration. Below is a list of the participating communities/organizations and the approximate times in which officers and staff plan to visit. Some communities will be visited twice. Target is a sponsor of National Night Out and the New Bern Target is kicking things off with an NNO celebration in their store parking lot located at 3410 Dr. Martin Luther King, Jr. Boulevard. The celebration will include all kinds of food and fun for families and begins at 4:15pmNew Bern Police Department officers and staff will be part of the kickoff.
New Bern Towers 4:45pm
Trent Court 5:00pm
Ghent 5:00pm
Sellhorn Heights 5:00pm
Colony Estates 5:40pm
Craven Terrace 5:40pm
Duffyfield 5:40pm
Olde Towne 5:40pm
Kings Row 6:20pm (2000 Moore Ave.)
Colony Estates 6:20pm
Pleasant Hill 6:20pm
Carolina Colours 6:20pm
Craeberne Forest 7:00pm
Kings Row 7:00pm
HDRA 7:00pm
Evans Mills 7:00pm
Pembroke 7:40pm
Leave your porch lights on, lock your doors, and come enjoy a summer night with friends, neighbors and local law enforcement. You can learn more about National Night Out by visiting the National Association of Town Watch website.
The New Bern Police Department is committed to partnering with the community. Citizens are encouraged to become a "Partner in Policing," by reporting suspected illegal activity to the New Bern Police Department's TIPS line at 252-636-5034 or the Craven County Crime Stoppers line at 252-633-5141. For additional information, please contact Lt. Ronda Allen, Public Information Officer at the New Bern Police Department at 252-672-4123.
Submitted by: Colleen Roberts, Public Information Officer for the City of New Bern