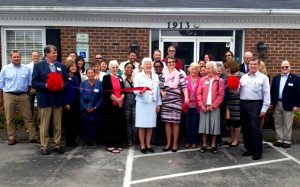 The New Bern Area Chamber of Commerce held a ribbon cutting ceremony at InterFaith Refugee Ministry at 12 pm on Friday, May 1st.
At the Chamber, we love to celebrate the many good things that our members do to support the needs of our community and InterFaith Refugee Ministry has been helping refugees in New Bern and throughout eastern North Carolina since 1992!  The special ribbon cutting event was attended by several chamber board members and many other community members!  Refreshments and beverages were served.
InterFaith's new office is located at 1913 Trent Road, New Bern.  For more information visit their website .
If you are currently not a member of the chamber and would like to be, please email the chamber or call the office at 252-637-3111.
Since 1899, the New Bern Area Chamber of Commerce has successfully been serving the business community for over 115 years!  Located in beautiful historic downtown New Bern at 316 S. Front Street, the New Bern Area Chamber of Commerce serves to positively cultivate economic stability for the local community by partnering with local businesses to promote and engage its members so they are positioned not only to succeed, but thrive.
Submitted by: Millissa True, SBS Forward