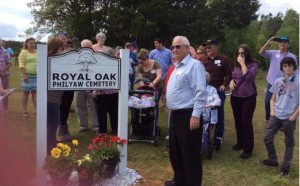 The Craven County Genealogical Society presents the "Philyaw Family Reunion, Royal Oak Cemetery Project, and Dowsing For Graves" by Franky Philyaw Waters and David French, for their monthly meeting on Tuesday, May 12, 2015 at 7 p.m. Franky will talk about her recent Philyaw Family Reunion and history, as well as cleaning up their Philyaw family cemetery known as Royal Oak in the Comfort community in Jones County. David will demonstrate how dowsing is used to identify graves.
Earlier this year, the Philyaw family of Jones County donated their over a century old family Bible to the research room at the Onslow County Museum so that it will be safe and available for future generations of family researchers.
The Society's monthly meetings are held at the New Bern LDS Church located at 1207 Forest Drive off Trent Road. The monthly meetings are free and open to the public and membership is encouraged. The Society now has a Facebook page accessible via their home page listed below.
The Society has a vibrant and diverse membership representing not only Craven County and North Carolina, but also many other states as well. The members are dedicated to fostering interest in the research, preservation, and sharing of family heritages. The Society welcomes everyone who is
interested in learning more about family history research both in and out of Craven County to attend.
For more information, please visit CravenGenealogy.org or contact Pres. Nancy Perdue at 252-638-3291.
Submitted by: David French, Family History Society of Eastern North Carolina