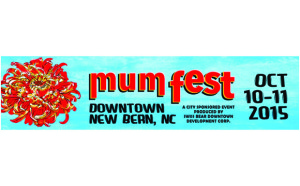 As MUMFEST celebrates its 35th year, Swiss Bear and the City of New Bern are proud to host an award winning festival guaranteed to entertain visitors of all ages. Join us as we celebrate MUMFEST weekend with non-stop entertainment including magicians, artists, acrobats and helicopters.
That's right – helicopters! The North Carolina Vietnam Helicopter Pilots Association will have five helicopters, or ships to use the correct term, on display. The pilots, all Vietnam veterans, will be present to share a part of living history with the public. Visitors will be able to actually climb into the ships and speak directly to the pilots.
The display consists of two LOH's, a Mike Model gunship, a Cobra gunship, and a Medical Evacuation H-Model Life ship. The pilots will share their stories with visitors and honor the brotherhood that binds them together, these men have shared and survived experiences fraught with danger. They will focus a light of respect and admiration upon all veterans. It is an honor to have them visit MUMFEST this year. Visit: www.ncvhpa.org
Planning is well underway for this year's MUMFEST with a number of exciting new performances and venues. Another major new event is Art in the Park.  Whatever medium you work in, oil or acrylic, watercolor, sculpture, pottery, charcoal or pencil, all artists are encouraged to come join the fun. Information and an application to rent a booth to sell and/or demonstrate your art is available on our website.
MUMFEST fits all budgets with two days of free family entertainment including acrobats, dance troupes, magicians, roving street performers, amusement park rides and much, much more!
MUMFEST attracts festival goers from across the southeast to experience this award winning festival located in the beautiful historic downtown along the waterfront. Festival goers can spend a little or spend a lot with over 300 commercial and nonprofit exhibitors to choose from including pottery, crafts, art and a mind boggling variety of food booths, which will satisfy anyone's appetite.
If you would like to learn more and be a part of this exciting event go to our website: mumfest.com/vendors to fill out a vendor application or check the MUMFEST Sponsor Guide for sponsorship opportunities.
While visiting MUMFEST, please take a look around our beautiful city. New Bern's historic downtown has become a shopping and dining destination with its many art galleries, privately owned shops, restaurants and waterfront parks. When planning a trip to New Bern you can see everything New Bern has to offer by clicking on: visitnewbern.com.
MUMFEST is a City sponsored event, produced by Swiss Bear Downtown Development Corporation. The beautifully restored downtown and riverfront, unique shops, art galleries, restaurants and historic homes make New Bern a destination for many travelers. To learn more about MUMFEST and Swiss Bear Downtown Development Corporation go to downtownnewbern.com or mumfest.com.
Submitted by: Swiss Bear Downtown Development Corporation