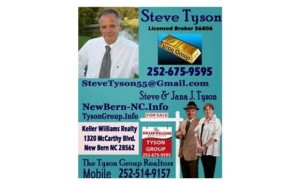 Homes sales through 4-26 in various years
2015=350
Average Sales Price=$154,754
2014=273
Average sales price=$158,481
2013=317
Average Sales Price=$154,345
2012=267
Average Sales Price=$164,144
Nice, sales volume is up 28% year to date.
Sales are up and that was not unexpected as we have been very busy this year. And based on the volume of my website hits, I expect this trend to continue.
More and more folks from all over the country are discovering, visiting, and liking New Bern. Rarely does a day go by that I don't get a call from someone who has heard about our wonderful town from a friend or found us on the internet. Being recently designated as one of North Carolina's Certified Retirement Communities will bring ever more exposure.
Sales tax and the Occupancy tax are both up. Many of our largest employers in the county are hiring again. This will eventually help sales as well as the rental market. Yes, there are still challenges in the housing market. The average sales price is not moving up, at least not yet. I believe this will change before the end of summer, inventory has tightened and will likely continue to do so. It is not as easy to find a great deal on a house as it was in prior years.
Join me Friday morning on CTV 10 at 8:00 am as I will be talking to Mayor Dana Outlaw and Mayor Chuck Tyson about the economy, taxes, and many other local issues.
Don't forget to check out my website, www.newbern-nc.info if you or someone you know are looking for real estate.
Submitted by: Steve Tyson, The Tyson Group Realtors