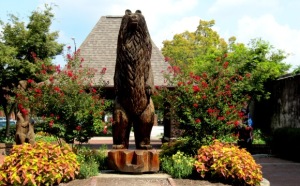 For the seventeenth year in a row, the City of New Bern has been awarded designation as a Tree City, USA by the North Carolina Department of Agriculture and Consumer Services, NC Forest Service. Thurman Hardison, Director of Parks & Recreation was recently informed of the award via email from a state forestry representative.
Four program standards of urban forestry management must be met in order to achieve this designation: maintaining a tree board or department, having a community tree ordinance, spending at least $2 per capita on urban forestry, and celebrating Arbor Day. The City of New Bern Appearance Commission oversees urban forest planning and development and each commissioner is appointed by the Board of Aldermen. This Appearance Commission helped the City establish a Tree Guide to assist residents in learning and understanding indigenous tree species, proper planting and care of local trees. The tree guide also educates residents on how they can participate in community beautification efforts.
"As we continue to make strides in improving our best practices and decision-making processes regarding tree care, this recognition is something to be proud of" said Thurman Hardison, Director of Parks & Recreation.
New Bern lost trees and several limbs during recent winter storms. Public Works and emergency personnel surveyed the damage and administered cleanup efforts immediately after the storm let up. The City's Appearance Commission is an essential part of the evaluation of this tree loss and the recommendation of suitable replacements where necessary.
The Tree City, USA designation is typically awarded to coincide with Arbor Day. The City of New Bern will celebrate Arbor Day on April 24, 2015. Planning for this event is ongoing.
For more information on Arbor Day, visit www.arborday.org.
Submitted by: Colleen Roberts, Public Information Officer for the City of New Bern