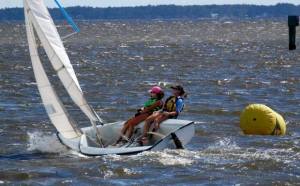 Oriental, NC will be the venue for its first ever intercollegiate event. The Oriental SailPack Invitational will occur there on Saturday, March 14th. North Carolina State University will be the host school. The growing list of teams competing in this event includes Auburn University, UNC-Charlotte, Florida State University, Davidson College, UNC-Wilmington, Salisbury University, Syracuse University and, host school, NC State University.
This event comes on the heels of Oriental's Bow to Stern Boating Center's purchase of 18 FJ (Flying Junior) sailboats, bringing their fleet of FJs to 24. This is the largest fleet of FJs in NC, and, possibly, the entire East Coast. The FJ is one of two sailboats used most often in intercollegiate sailing events.
As a lead up to the regatta, Bow to Stern will hold a 5-day racing clinic. The NCSU Sailing Team will be joined by Syracuse for this week of intense, early season, on-the-water training. Other teams or individuals who participate in intercollegiate racing and are interested in the clinic are welcome to attend.
Bow to Stern Boating Center is open to all college and high school teams to train and host events in Oriental.
Come meet the sailors at a SailPack Foundation BBQ fundraiser on Friday, March 13th from 4-6pm on the Water Street Grill deck. Tickets for the BBQ are available at Nautical Wheelers in Oriental, NC.
Submitted by: Joe Mattea