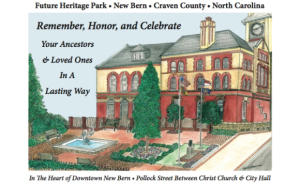 The Family History Society of Eastern North Carolina (FHC of ENC) will celebrate its Fifth anniversary on Sunday, March 29, 2015, from 3pm to 5pm, in the Hayden Hodges Jones Auditorium at the New Bern-Craven County Public Library, 400 Johnson Street, New Bern, North Carolina. It is a free Family History Roadshow and Roundtable Special Event including a cake and punch reception.
The FHS of ENC was organized in 2010 to celebrate the rich, cultural heritages of the area from the early times to the present. The original organizers were Mrs. Ella Jones Bengel, Mrs. Davetta Hill Cuthrell, Mr. David A. French, Miss Janet J. Latham, and Mrs. Marianne Duffy Williams. Since its formation, it has hosted and co-hosted over 25 area historical events including three ENC Family History Fairs. Its main ENC community project is the development of the future Heritage Park in downtown New Bern next to City Hall.
The fifth anniversary special event will be a time for everyone to visit, bring a family artifact, Bible, picture, photo, story, etc to share. Also, if you have questions about your family history research, there will be other researchers on hand to talk with you.
Family photo boards will also be on display and feel free to bring yours. The event is free and open to the public and everyone is welcome.
In May, the Society will host an "End of The Civil War in ENC Symposium" featuring Dr. Chris Fonvielle, noted Civil War scholar, author, and professor of history at UNC-Wilmington, and other Civil War historians. In July, in partnership with ECU, they will host "A Tuscarora and Settlers' Homecoming" in conjunction with the ENC Family History Fair to commemorate the 300th Anniversary of the end of the Tuscarora War (1711-1715).
For more information, please visit ENCFamilies.org or call 252-349-0405.
By Contributing Author: David French, Director, The Family History Society of Easter North Carolina