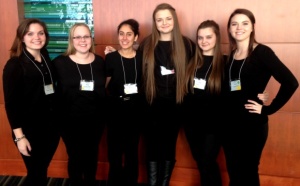 Early College EAST's troupe 7952 of the International Thespian Society competed in the state thespian festival February 5-7, 2015. Six students from the troupe competed in four areas of the festival: Madison Guinn competed in the Stage Management category, Ashley Dhillon and Allison Taylor competed in the duet acting category, Brittany Taylor competed in the monologue category, and Ashely Dhillon, Brittany Taylor, Allison Taylor, Jesslyn Guinn, and Shawna Milam competed in the group acting category.
The students presented a scene from their fall one act play, The Insanity of Mary Girard, for the group acting category and earned the highest rating, Accomplished, for this performance. This rating qualifies the group to compete in the national competition in Lincoln, Nebraska in June.
The group also received the highest recognition of "Best in room/Critic's Choice," which allowed the group to perform the scene for the entire festival at the awards ceremony, the Tarheel Tapestry, at the end of the weekend.
Congratulations to Early College EAST's thespians, for receiving such wonderful recognition for Craven County Schools!
Submitted by: Jennifer Wagner, Director of Public Relations, Craven County Schools