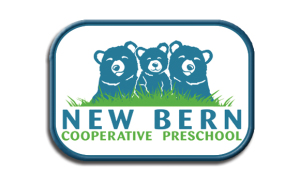 Mike and Kate McKenney, a husband and wife team, are pleased to announce New Bern Cooperative Preschool is gearing up for a fall 2015 opening for children aged 2 to 5.
Listen to Laura Johnson's interview with Kate airing on WNOS 97.1FM and 1450AM:

New Bern Cooperative Preschool offers an attractive alternative to parents looking to be more involved in their child's education. While the preschool will be staffed with professional teachers and a director, parents volunteer in the classrooms on a rotating basis and, as a community, manage the school's operation. New Bern Cooperative Preschool is a secular, non-profit organization that supports play-based learning.
"As supported by current research, play-based learning is the core of quality early childhood programs. It is through play that children explore and investigate the world around them, while also developing social and emotional skills," said Kate McKenney.
New Bern Cooperative Preschool seeks to include all families interested and committed to the cooperative, play-based approach. To ensure access, establishing a vibrant scholarship fund is vital to the inclusive mission of the school. Efforts to establish this fund are underway.
A military family with three young girls, the McKenney's are motivated to fill a void they found missing in the community. Kate McKenney holds a Master's Degree in Education, is a licensed school administrator, and before relocating to New Bern, was the Child Development Center Director on MCAS Yuma, AZ overseeing 90 employees caring for 230 children. Mike McKenney is a Marine with 15 years of leadership, logistical, and operational experience.
"Creating New Bern Cooperative Preschool is a voluntary endeavor by our family.  We experienced firsthand the benefits of a play-based, cooperative preschool and our goal is to bring this exemplary model to New Bern," McKenney added.
Registration for the New Bern Cooperative Preschool is now open and the school is currently recruiting experienced educators. More information can be found on their website, www.NewBernPreschool.org.
Submitted by: Kate McKenney, Founding Parent and Director, New Bern Cooperative Preschool