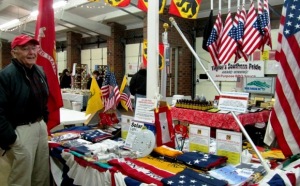 Since we announced our U.S. Flag disposal program over two years ago, The Flagman at The New Bern Farmers Market has received over 600 tired and worn flags from customers who want to dispose of their flags in an appropriate and dignified manner.
To further encourage proper disposal, The Flagman extends a 10% discount on the purchase of the worn flag's replacement.
The stars are lovingly placed on small wallet sized cards bearing a thoughtful inscription by members of the local Elks Lodge and are given to veterans in hospitals and nursing homes as well as our young men and women in uniform.
For those not able to get to The Farmers Market, worn flags can be placed in the red receptacle on the front lawn of the American Legion at 2107 South Glenburnie (across from Badcock and More Furniture).
For more information, please call Bill Rust at 252-635-2961
Submitted by: Bill Rust, A. Thompson Flags and Flagpoles