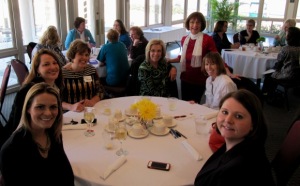 We had a fun and educational meeting with the Coastal Women's Forum (CWF) during our monthly Luncheon at the Emerald Golf and Country Club!
Listen to our interview with President Mary Ann Jordan Yates; Jane Maulucci, the Dinner Speaker Coordinator; and Dona Baker who's on the Board of Directors, Website Manager, and the Newsletter Editor. The radio interview is aired on New Bern News Talk Radio WNOS 97.1FM and 1450AM and is published on NBN's Libsyn page:

Mary Ann said, "The Coastal Women's Forum is an organization of about 100 women strong. We are a networking, education, and encouragement group where we like to meet with other women and talk about our businesses and life."
When asked about the CWF, Jane said, "One of the greatest things about the Coastal Women's Forum is the sort of quasi-motto, which is that we don't bake cookies. Our whole mission is entirely focused on networking and supporting each other. So we're really just working to get each other to do business better and to have a better life. It's a great group of women."
Dona was proud to describe the CWF as, "It's a wonderful group for networking, making professional contacts, and making new friends.
If you haven't joined the Coastal Women's Forum, you're missing out on a unique opportunity to network, catch up with friends, and/or meet new ones.
The CWF is a group of like-minded women who want to learn, network, and meet new people. Although I don't usually go out to lunch or dinner, I make it a priority to attend to the CWF Luncheons on the third Wednesday of every month at 11:30pm at the Emerald Golf and Country Club.
They also host dinner meetings on the first Tuesday of the month at the Chelsea Restaurant at 5:30pm. I prefer to go to lunch as I'm usually working during dinner meetings. Having the option to attend lunch or dinner is a great asset to the organization.
Before lunch was served, Mary Ann Jordan Yates welcomed guests and asked them to introduce themselves. If they're shy, the person who sponsored them helped break the ice by introducing them. That way, nobody is put on the spot and feels at ease.
The meetings are very educational as we learn something new from guest speakers. Today, Tanya Roberts of Structured Chaos entertained us with a fun but educational exercise. She discussed the importance of setting goals and sticking to them. She gave us a small form to fill out and encouraged us to write down one goal for the year that included the estimated time we planned on accomplishing it. We put the forms into an envelope addressed to each of us with the date of the goal on the back. Once we sealed the envelope and gave it to Tanya, it was official as we'll receive the envelope in the mail on the date of our goal. The question remains, will we hold ourselves accountable or will it just be another resolution that sounded good at the time?
Following Tanya's presentation, Mary Ann Jordan Yates asked for announcements and the meeting concluded as members continued to network.
I encourage local women to attend a meeting and see if you'd like to join the Coastal Women's Forum. If you're interested, please visit their website and request to be a guest at their next dinner or lunch meeting. I hope to see you their!
Tell us what you think by commenting below or sending us an email. Visit New Bern Now's Facebook page or sign up for the latest updates by submitting your email address in the right margin on New Bern Now's website.
Wendy Card