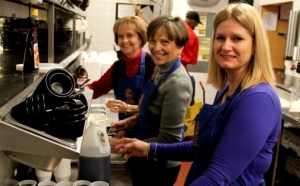 Applebee's Flapjack Fundraiser Breakfast with the Tryon Civitan Club
Laura Johnson interviewed Mack Paul to talk about the Tryon Civitan Club's Flapjack Fundraiser on February 21st at Applebee's in New Bern.
Listen to the radio interview aired on New Bern News Talk Radio WNOS 97.1FM and 1450AM. The interview is published on NBN's Libsyn page:

The Tryon Civitans will be hosting a Flapjack Fundraiser Breakfast on Saturday, February 21st from 7:30am to 10am at Applebees on Martin Luther King Blvd. in New Bern.
Tickets are $7 for the delicious pancake and sausage breakfast and can be purchased at The UPS Store at 1822 S. Glenburnie Rd. or from any Tryon Civitan member.
Walk-ins are also welcome.
This is one of numerous Tryon Civitan fundraising projects! All proceeds benefit charities in our community, a few of which are Coastal Women's Shelter, Craven County Special Olympics, Habitat for Humanity, Interfaith Refugee Ministries, MERCI Clinic, Religious Community Services, and the Twin Rivers YMCA.
For more information please call Mack Paul at the UPS Store in New Bern at 637-7500 or visit the Tryon Civitan's website.
Tell us what you think by commenting below or sending us an email. Visit New Bern Now's Facebook page or sign up for the latest updates by submitting your email address in the right margin on New Bern Now's website.
Wendy Card