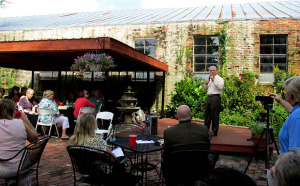 April 22nd from 10am – 3pm in the Isaac Taylor Garden
We're excited to announce our 2nd Social Media Summit for the Greater New Bern area and beyond!
Since 2009, New Bern Now's mission remains the same; to promote local businesses, non-profits, events, and more because we want to help you attract clients, customers, and/or donors.
By teaching you about our local media outlets and how to optimize your online presence through social media, we hope to help your business and/or non-profit. Who knows, this may ultimately enhance economic growth throughout Eastern North Carolina!
We've found out that at least 25% of local businesses and/or non-profits aren't online. If you're in that population, you are missing out on reaching thousands of potential clients/customers!
If you don't have an online presence, it could really make or break a business or non-profit. With that said, even if you have a website and/or Facebook page, if people can't find you, you're wasting valuable time.
Here are two examples why you should come to our Summit:
Let's say you are an attorney, mechanic, contractor, realtor, or other occupation and someone searches for your name on Facebook (FB). If you don't have a FB page, there may be a "mock page" that was generated with false information about you. People who visit the "mock page" will see attorneys, mechanics, contractors, realtor, etc. that have active FB pages and they will call upon them because they seem to know what they are doing vs. someone with a fake page.
Another example is that you started a business/non-profit Facebook page, but didn't know what you were doing and gave up. People who visit your page a year later think that you're out of business because you haven't updated it and go elsewhere…bottom line…you lose prospective clients, customers, or donors.
The first examples are of FREE missed opportunities that happen to be Facebook related. There are numerous social media outlets to include Twitter, Instagram, Linked In, Google+, Pinterest, Youtube, and many more that you may be missing out on.
Some attendees from NBN's First Social Media Summit asked us to have another one, so we are!
I believe every business and/or non-profit should have an online presence. If you don't, you are really missing out! If you do, but aren't effective, there are all kinds of ways that you can promote your services and products for free. We can help you!
Learn from local media (TV news stations, newspaper, radio) and local businesses how to get your message out to the public. Speakers from the 1st Summit were from the WCTI 12 and WITN 7 TV stations; New Bern Sun Journal; New Bern, Havelock, and Pamlico Chamber of Commerce, along with marketing and web development companies, and local businesses sharing their success stories.
We're excited to have at least 15 guest speakers share their knowledge and experiences with us! Together, we look forward to sharing valuable information with you to help the greater good of our community.
If you are interested in learning how you can improve your client/customer base, please send me an email or call 252-638-6858.
The upcoming Summit will be held on Wednesday, April 22nd from 10am – 3pm with lunch and beverages in the Isaac Taylor Garden. Rain date is April 29th.
Please know that this is not a "money maker" and there will be a small fee to attend (max $20). Once we know how many people are interested in attending, we will give you more details.
If you'd like to attend, send us an email and we'll add you to the list and you'll receive a registration form.
We look forward to hearing from you!
Wendy Card