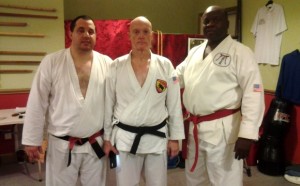 The New Bern School of Martial Arts and the New Bern Bushido School of Martial Arts congratulates Shorin Ryu Karate Black Belts for their 2014 performance.
Gene Buszka and Everett David Harris completed their Shorin Ryu Black Belt test for the year with an outstanding performance.
Karate Master Ronnie Lovick Sr. was the evaluator.
Several Karate Black Belts from NC witness the performance of their test.
Beginners Classes start soon 252-671-0089
Submitted by: Ronnie Lovick Sr., New Bern Bushido School of Martial Arts