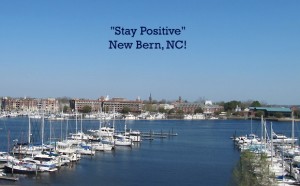 When New Bern Now was founded in 2009, I didn't know anything about websites, let alone publishing a magazine. It's obvious if you remember what the original website looked like. You can see how the 1st Ledger looked like by reading it here.
The goal was to promote everything that we could in the Greater New Bern area. It was created to help local non-profits and businesses spread their message at no charge. Before we knew it, good friends teamed up with me (Laura Johnson, Thea Kincaid, Richard Sheridan, Lisa Bisbee, and Bobbi Waters). Without their guidance and your help, I would've given up a long time ago.
In the beginning I would stay up past midnight trying to think about what to write about New Bern. Then we started taking pictures and videos of local events. Before we knew it, we were recording audio (interviews and reading public service announcements) and sending them to WNOS radio station to reach more people.
Fast forward five years and we haven't wavered from our motto, "Promote, not Demote". We expanded our reach to residents and visitors of New Bern and Beyond!
Our readers have embraced New Bern Now's website and Ledger magazine as their own. They send us articles, community announcements, event information and let us know about new businesses and others that have closed.
We have contributing authors (Kate Horney, Mary Ann LeRay, and Tanya Roberts) who provide helpful articles on a regular basis.
We also want to thank our advertisers as we would not be able to print the Ledger without their financial support.
Today we give thanks to you for believing in us. We wish you a Happy Thanksgiving. We hope that you are able to spend time with friends and family.
Tell us what you think by commenting below or sending us an email. Visit New Bern Now's Facebook page or sign up for the latest updates by submitting your email address in the right margin on New Bern Now's website.
Sincerely,
Wendy Card