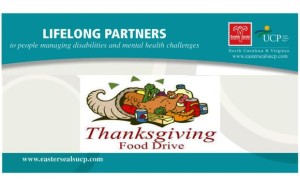 Our organization is holding a food drive on Friday, November 14th from 9am-5pm and Saturday, November 15th from 8am-12am to benefit local families in Craven, Pamlico, and Jones Counties. This is a great opportunity to help feed the hungry in eastern NC and I encourage you to join in our efforts. The food gathered will provide Thanksgiving meals for many in need.
All food and funds raised will help Easter Seals UCP to supply emergency food to those in need. We are working hard to serve our community and help a growing number of families who are food insecure. Food insecure families are so limited in their resources to buy food that they are running out of food, reducing the quality of their food, cutting out meat, feeding their children unbalanced meals, or skipping meals so that their children can eat.
Here's how you can help:
1. Donate Funds. Money donated will go to purchase food for needy families and children.
2. Donate non-perishable foods in the marked boxes at collection points at our location during the drive. We are located at 2801 Neuse Blvd, New Bern. Easter Seals is in serious need of the following:
– Canned tuna, ham, chicken, turkey or beef
– Peanut butter and jelly
– Cereal
– Beans: dried or canned
– Macaroni and cheese
– Boxed meals
– Pasta and pasta sauces or rice
– Fruit juice, coffee, tea and drink mix
– Soup
– Fruit and vegetables: canned
– Sugar and flour
***During the same times as the food drive ESUCP will also work with Luggage 4 Love. A community organization that collects gently used luggage to donate to local foster children so they do not have to move through the foster care system with their belongings in trash bags. Check your closets and bring your suitcases, duffel bags, backpacks, and assorted bags and make a difference in a child's life. Thank you for your support to local children and families.
Submitted by: Stacy Connor, Program Supervisor, New Bern/Jacksonville Communities
Child Placement and Supports, Easter Seals UCP North Carolina & Virginia, Inc.