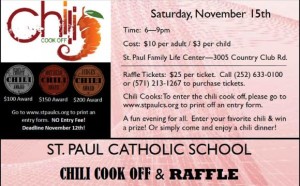 St. Paul Catholic School invites you to attend our "Chili Cook Off" on Saturday, November 15, 2014, from 6 to 9 pm at St. Paul Family Life Center, 3005 Country Club Road, New Bern, N.C.
Tickets are $10 per adult and $3 for children 10 and under.
This will be a chili dinner, with all the trimmings, corn bread and non-alcoholic drinks. What a fun evening! In addition we are inviting you to be one of the chili cooks. How exciting can that be? To enter the cook off, please go to www.stpaulcs.org and print off an entry form. First prize will be $200, second prize $150 and third prize $ 100. Good news, the $25 entry fee has been waived; your contribution of chili, time and talent is enough.  Deadline for cooks to register is Nov. 12, 2014.
Wait there is more – we are offering car raffle tickets for $25 each. The winner will have a choice of driving for free, for two years, a 2014 Ford Fusion provided by Cella Ford.  Your other choice will be a cash award of $ 8,000!
For tickets for the cook off or just to buy a raffle ticket please call 252-633-0100 or 571-213-1267. You do not have to be present to win the car, but you will miss a fun filled evening.
Submitted by: Nancy Stewart, Public Relations, St. Paul Catholic School