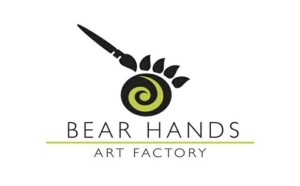 This holiday season, make your gift-giving more special by making presents together. Bear Hands Art Factory is offering four Family Christmas Workshops in November and December.  After the holidays, they have a full week of Winter Art Camps.
"We are doing pottery snowmen and mugs in November," explains Shelley Mathiot, owner of Bear Hands Art Factory, "so we will have plenty of time to dry, fire and glaze before Christmas. The paintings, which go home with you the same night, are scheduled in December."
Come make a snowman from clay on Saturday, November 15. The workshop is open between 1 pm and 5 pm, so families can pick a time that is best for them. Plan to spend about two hours at the studio. The cost is $10 per snowman, so you can make one or a whole blizzard of them.
Create your own cocoa mugs at the second Family Christmas Workshop, Monday, November 17 from 6-8 pm. These microwave/ dishwasher safe mugs are also $10 each to make. Fees for both workshops include glazing and firing.
The December 12 and 16, workshops are from 6 to 8 pm and designed for parents to drop-off their kids if they want to. While parents get some shopping done, the kids can enjoy making a holiday painting for someone special.
"We plan to help them finish, dry, and lightly cover their paintings," says Mathiot, "so they can even surprise their mom and dad."
After the holidays, two sessions of  Winter Art Camp are on schedule. The morning session from 10:00 am to Noon, and an afternoon session from 1:00 to 3:00 pm.  Parents can sign up for 1 session or both.
"Each session features different projects, so morning students will not be doing the same things as afternoon students," says Mathiot. "In past years we've had many requests for a camp during this week."
Students who sign up for both morning and afternoon sessions can pack a lunch, and parents get a 20% discount on the second camp. To register for the Family Christmas Workshops or the Winter Art Camps, go to Bear Hand's website: www.bearhandsart.com or call 252-514-ARTS (2787).
Submitted by: Shelley Mathiot, Bear Hands Art Factory