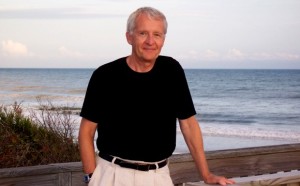 Pulitzer prize-nominated poet, Peter Makuck, will be reading from his poetry and short stories in New Bern on Tuesday, October 7. The New Bern-Craven County Public Library will host a reading of his fiction and book signing at 4 pm. He will then read and sign books as the Featured Poet at the First Tuesday Poetry Open Mike at 7 pm at the Trent River Coffee Company. Both events are free.
Makuck is the Distinguished Professor Emeritus at East Carolina University. He founded and edited the journal Tar River Poetry from 1976 until 2006. He has published numerous poems and stories in publications that include The Nation, The Gettysburg Review, The Hudson Review, The Sewanee Review, Ecotone and Yale Review.
His book Long Lens: New & Selected Poems was published in 2010 by BOA Editions and nominated for a Pulitzer Prize. Recently Syracuse University Press released a third collection of his short stories, Allegiance and Betrayal.
He will share a sneak preview from his new book, Mandatory Evacuation, which will be published next year.
Makuck grew up in New England and currently lives on Bogue Banks. The geography and culture of Eastern North Carolina has played a major role in shaping his writing.
"We are thrilled Peter is willing to share his poetry and stories with an audience in New Bern." said Sam Love, one of the organizers of the events. "His poetry is very accessible and paints such a realistic picture you feel you are sharing the moment with him."
After the Featured Poet reads at the coffee house, the mike is open for other poets. The First Tuesday Poetry Open Mike is sponsored by the Nexus Poets, a group of Eastern North Carolina poets promoting area poetry.
Submitted by: Meg Wethington on behalf of the New Bern-Craven County Public Library