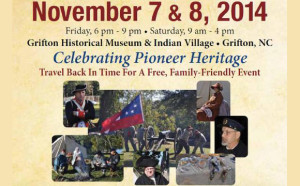 November 7 & 8, 2014
Grifton Historical Museum & Indian Village, Grifton, NC
The fourth annual John Lawson Legacy Days Event will be held on Friday, November 7, and Saturday, November 8, 2014, at the Grifton Historical Museum and Indian Village, 437-A Creekshore Drive in Grifton, Pitt County, North Carolina. This year's theme is "Celebrating Pioneer Heritage" and the public is invited to join us as we travel back in time for a free, family-friendly event.
English explorer, John Lawson was a key player along with others leading up to and during the The Tuscarora War (1711-1715) which was a tumultuous time in Eastern North Carolina history. It is one of the defining events not only in our local history, but it also influenced the later development of North Carolina.
The event will begin on Friday, November 7, from 6pm. to 9pm at the Grifton Museum with an open house, tours of the military encampments, nighttime cannon firing along Contentnea Creek, and more. An optional black-eyed peas and sausage supper is available for $5 per person.
On Saturday, November 8, the event continues at 9am until 4pm Throughout the day the following activities will be available: tour the Grifton Museum & Indian Village Re-Creation; see Primitive Technologies demonstrations; tour the military encampments and visit with Colonial, Revolutionary, 1812, and Civil War Re-Enactors; learn about
Revolutionary War medicine; meet Living Historians featuring the Northampton Battery Artillery; the Dixieland Artillery, the Carolina Living History Guild, Bughill Civil War Sutler, and others; see daytime cannon firings; visit exhibitors, crafters, spinners, weavers, potters, blacksmiths, and soap makers; take a boat ride on Historic Contentnea Creek; see Steamy Gene's Steam Engines; view antique cars, tractors, pumps, washing machine, ship models, farm displays, and tools; dig in the Aurora Fossil pit, participate in the raffle; register for door prize drawings, and more!
At 10am, Mr. Vince Schiffert of the Tuscarora Nation will present a "Tuscarora Grapevine Story" that details the origins of the Tuscarora people.
At 11am., Dr. Charles Ewen, ECU anthropology professor and archaeologist, will present "Trafficking With The Devil: The Archaeology of Piracy in Eastern North Carolina" that explores this fascinating period in the history of the area.
At 12pm, Lunch items available for sale will include hamburgers, hot dogs, and butter beans & sausage.
At 1pm, Mr. Tom Magnuson, founder and CEO of the Trading Path Association, will present "Moving Into The Backcountry: Colonial Era Transportation In The Carolinas and Virginia, 1585-1785" on behalf of the North Carolina Humanities Council Road Scholar program.
At 4pm, Special visit to a nearby Historic Tuscarora Indian Village Site. Details and directions will be available the day of the event.
We look forward to seeing you at this year's free event "Celebrating Pioneer Heritage" in Grifton. For more information, please visit JohnLawsonLegacyDays.org or call 252-524-0190.
We would like to thank our event partners, supporters, and volunteers for making this event possible: HardeeAndHardee.com, Reflector.com, GriftonMuseum.com, Grifton.com, The Grifton Gang, ATimeForScience.org, First Citizens Bank Grifton –  FirstCitizens.com, KingsBBQ.com, Sentinel Risk Advisors / SentinelRA.com, SuddenLink.com, ENCFamilies.org, CarolinaLivingHistoryGuild.com, and the John Lawson Legacy Days Committee.
Submitted by: David French