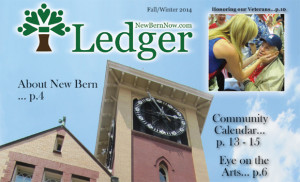 Hello, Readers!
Here's a "sneak preview" of the first magazine style edition of New Bern Now's Ledger – October thru December 2014.
Our goal hasn't changed, we will continue to share as much information about local happenings. The only difference is to make the Ledger more appealing to readers.
This is my first time using digital software and it's been a major learning curve. I couldn't have done it without the help from Lisa Bisbee Lentz, Rich Sheridan, and Laura Johnson.
If you enjoy proofreading, I would really appreciate your feedback before we send it to the printers on Monday morning.
As with most new ventures, we will face obstacles and will do our best to confront and overcome!
Your feedback has been instrumental in keeping us up to date on both the website and Ledger.
Feel free to send me an email with any corrections, as I welcome constructive criticism!
Thank you in advance for your support, review, and suggestions/comments.
Sincerely,
Wendy Card