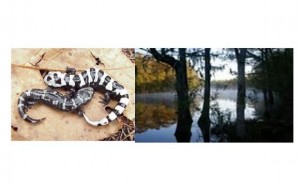 Reptile Workshop
Wednesday September 17th, 9am-4pm.
Mike Campbell and Jeff Hall with the NC Wildlife Resources Commission will teach you all you ever thought you could know about reptiles in North Carolina.  This all day workshop will include a power point presentation, live animal ID station, and an outdoor field session.  For more information and/or to sign up, e-mail or call 252-670-0090.
Outdoor Photography Workshop
Friday October 3rd (6-9pm) and Saturday Oct. 4th (9am-3pm)
A local retired professional photographer will teach and demonstrate the techniques of manual and digital photography on Friday evening. On Saturday, he will help you apply these techniques through various assignments in a mostly outdoor setting.  Cost: $50.00  For further information and/or to sign up e-mail or call Melissa Patrick at 252-514-3533.
Please stay tuned for more upcoming programs and events at Cool Springs!!
Submitted by: Melissa Patrick, Cool Springs EE Center, Education Coordinator and Eco-Camp Director