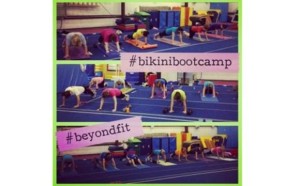 By Kate Horney, BeyondFitPhysiques
With busy schedules, vacations, and lots of extra activities, exercise is often the last thing on your mind during the summer months: with
According to the Surgeon General's Physical Activity and Health report, over 60 percent of people aren't getting enough exercise to provide them with the maximum benefits of wellness!
If you're not as active as you know you should be, you're not alone, but when you really think about it, baby is a REASON to make exercise a priority- not an EXCUSE for why you don't have time.
Consider the following benefits of exercise ….
15 Reasons You Should Exercise This Summer
Because you want to take care for yourself
Because it gives you energy
Because you want to feel good in your clothes
Because it improves mental alertness
Because it releases endorphins (and makes you happy)
Because it increases your mental & muscular strength
Because it prevents age-related muscle loss
Because it helps you sleep better and easier
Because it gives you a reason to be proud of yourself
Because it helps reduce stress
Because it increases your energy
Because it decreases depression
Because it improves your heart health
Because it reduces your risk of cancer
Because it boosts your immune system
Are you tempted to skip your workouts?  What keeps you motivated?
If you're not sure where to start with exercise?  We have easy to follow workouts online at BeyondFit Life! And if you'd like an in person workout with a personal trainer, check out our Bikini Boot Camp so you get started with your healthier life TODAY!
By Healthy Living Contributing Author: Kate Horney, BeyondFitPhysiques