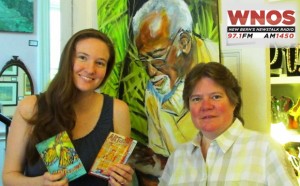 Laura Johnson enjoyed interviewing Sam Rae Bruggema, who is currently projects manager with Community Artist Will at the Greater Good Gallery inside the Isaac Taylor House and Gardens.
Listen to the radio interview aired on New Bern News Talk Radio WNOS 97.1FM and 1450AM here:
Sam Rae is helping "Ben Watford with a non-profit arts organization. Ben is President of Community Artist Will (spell out) C-A-W for short – CAW. CAW is a cooperatively-run incubator for the arts in Eastern North Carolina. We are working on several projects within our cultural arts program".
Laura asked, "Who does CAW help with its program?" Sam Rae responded, "CAW helps with the needs of emerging artists, under-served children, elderly people, artists and audiences with limited mobility or income, as well as the small local merchants who support local art communities".
"CAW helps to launch great ideas with practical help and support. They also expand the livelihoods of artists and performers, and even those small merchants who embrace the arts."
Sam Rae said, "CAW formed as a result of the Bohemian Artists of New Bern events which began in April 2012. Recently, we were recognized as a non-profit 501c3 status in January 2014 by the IRS. Currently, CAW implemented the Eastern North Carolina Cultural Arts Program which includes five active projects set up to reach the under-served community.
Laura asked, "What are some of the projects in CAW's cultural arts program?"
Sam Rae responded, "In the Gloria Morello Bisque-Ware Project, we give individuals with limited mobility or limited income an opportunity to be creative.
With ArtWorkFound.Com, artists place free art in urban areas to be found by the public.
Our monthly ARTcrawl is on the second Friday of EVERY month. Artists and merchants share creative demonstrations, exhibits and performances from 5 to 8pm in Downtown New Bern.
Also CAW supports two Artists' Co-ops with gallery space for under-served artists where they earn a additional source of income.
PR for ARTISTS is a great program to help artists get promoted with news and social media, websites, and events."
For more information, please check out CAW's website and Facebook page. Visit the Greater Good Gallery at 228 Craven St.
Side note: We hope you enjoy your visit to the Greater Good Gallery. Lisa Bisbee Lentz joined NBN's team in April 2012 as our Assistant Editor in Chief. We really appreciate her "Eye for design" as she helped me rebrand NBN's website!
Tell us what you think by commenting below or sending us an email. Visit New Bern Now's Facebook page or sign up for the latest updates by submitting your email address in the right margin on New Bern Now's website.
Wendy Card