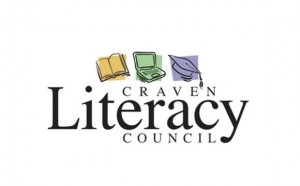 Craven Literacy Council is offering a workshop to train volunteer tutors to work with adults who want to improve their lives with increased literacy skills.  The 15 hour workshop will provide participants with teaching techniques and materials that will prepare them to tutor with the council.  When adults learn to read, write, or do basic math, they are better able to find and keep jobs, enjoy better health, and educate their own children.  Can you imagine not being able to read a prescription bottle when the need arises to give your child medicine?  If you have ever considered giving back to your community in this way, please call today.  Craven Literacy Council has a waiting list of students in need of a tutor and they need your help to reach their goals.
The workshop will begin on Tuesday, July 15, 2014 and will continue with sessions on July 16, 17, 22, and 23.  Each training session will be from 2:00 pm to 5:00 p.m.  The workshop will be held at Craven Literacy Council, 2507-F Neuse Blvd.
To register for this workshop, or for information, call Craven Literacy Council at 637-8079 or visit our website at www.cravenliteracy.org.  YOU can make a difference in someone's life. Please join us and become a ProLiteracy Certified Volunteer Tutor.
April King, Volunteer Services Coordinator, Craven Literacy Council