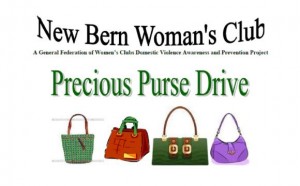 Dear Friends and Neighbors,
Do you have a "gently used" purse that you can fill with a few personal items such as body or hand lotion, deodorant, shampoo, conditioner, toothpaste, toothbrush, chap stick, small notepad and pen, slipper socks, scarf, or gift card to donate to a woman in need? Women who flee a domestic violence situation are often forced to leave everything behind and these filled purses are a way to let these women know that we care about them.
Just pick a few items, fill a purse and drop it off at a location listed below:
Drop off locations (May 12th – 24th, 2014):
Carolina Colours Carolina Colours Pavillion
Downtown/Historic District Poor Charlie's Flea Market &Antiques
Evan Mill Helping Hands Boutique
Fairfield Harbor POA Office
Greenbrier Emerald Country Club
RiverBend RiverBend Country Club
Taberna Taberna Country Club
Trent Woods Trent Woods Hardware & Garden
For more information, please contact Franky Waters at 252-633-9999.
Submitted by: Franky Waters, New Bern Woman's Club