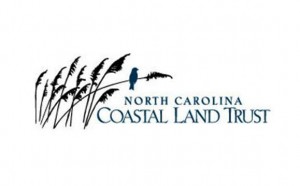 Duke Energy Foundation awards $50,000 to support Coastal Land Trust's Conservation Partnership with US Marine Corps at Cherry Point
The North Carolina Coastal Land Trust announced that Duke Energy Foundation has made a grant of $50,000, which will be used for its "Military Encroachment Project". The goal of the project is to acquire significant coastal conservation properties, which, if developed, would encroach upon the mission and growth of military bases, airfields, bombing ranges and flight paths.
More than a decade ago, in recognition of the economic devastation that could result if the region's military bases were compromised, state and community leaders began an intensive effort to pull together the resources needed to secure the future of the state's military installations. In response, the North Carolina Coastal Land Trust, working in partnership with the US Marine Corps at Cherry Point, developed the Encroachment Partnership.
The project has been astoundingly successful from a conservation standpoint: since 2006, more than 7,500 acres of conservation lands – forests, wetlands, wildlife habitat, shorelines, and farms – have been protected in 16 separate transactions. Each transaction also serves to protect flight paths, noise buffers or bombing ranges used by personnel at Cherry Point's Marine Corps Air Station. Development and uses that would jeopardize the future of the Air Station or endanger training missions are avoided. Last year alone, more that 45,000 takeoffs and landings at Cherry Point were accomplished.
The project also encompasses a partnership with the City of Havelock, protecting parks and recreational areas for the citizens of the community.
"The Encroachment Partnership project is a win-win for the environment, national defense, community and economic vitality," said Millie Chalk, District Manager for Government and Community Relations at Duke Energy. "We're glad to be a lead supporter of the Coastal Land Trust's special project."
"Duke Energy Foundation's leadership grant is key. Legislators in Raleigh and Congress understand the important role of Cherry Point – our nation's largest Marine Corps Air Station – and have invested more than $25M in capital grants to buy land and easements," said Havelock Mayor Will Lewis. "But the City's conservation partner, the Coastal Land Trust, relies on grants and contributions from members, businesses and foundations – like Duke Energy Foundation – to actually implement this special project, which is making such a positive impact on our citizens."
"The Coastal Land Trust is very appreciative of this generous grant," said George Liner, member of the Board of Directors of the Coastal Land Trust, and a Havelock Commissioner. "We are glad to continue to work to protect buffers around the Marine Corps Air Station at Cherry Point."
The North Carolina Coastal Land Trust works with landowners in North Carolina to save the lands you love at the coast, for the benefit of all North Carolinians.  A membership organization, the Coastal Land Trust has helped save 50,000 acres of land in 22 coastal counties of the state since 1992.  The Coastal Land Trust has offices in Elizabeth City, Wilmington and New Bern. If you would like more information on North Carolina Coastal Land Trust please visit www.coastallandtrust.org.
Submitted by: Camilla Herlevich, North Carolina Coastal Land Trust