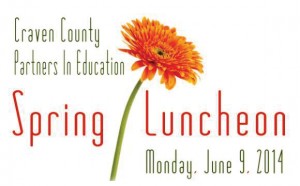 Lori Worley, President of Craven County Partners In Education's Board of Directors, announced that tickets are now available for the 2014 Partners In Education Annual Spring Luncheon. This year the luncheon will be emceed by Craven County Schools' Superintendent, Dr. Lane B. Mills. The luncheon will be held Monday, June 9, 2014, 1:00 pm, at the New Bern Riverfront Convention and Visitors Center.  Tickets are $25 per person. The Flame is catering the event.
Attending the luncheon will be over 500 teachers, school staff members, and community supporters. Ms. Worley explained that everyone in the community is invited to attend and/or sponsor this event.  She explained, "It is an excellent opportunity for you to interact with and promote your organization to our local educators and community members and show your support of Craven County Schools.  All proceeds from the luncheon will be used to support our local schools through PIE grant programs."
The paramount benefit of attendance and sponsorship is that you are contributing to an increasingly skilled 21st century workforce and a community of schools recognized for its excellence. The goal of our school system is to be the highest performing system of public education in North Carolina.
The Havelock High School Band will be performing during the luncheon.
Ms. Worley also announced the sponsors of the luncheon. At the "Major Sponsorship Level":  AlphaGraphics, BB&T, The Harold H. Bate Foundation, Bosch Home Appliances – B/S/H/, CarolinaEast Health System, Century 21 Zaytoun-Raines, Craven County Schools, Craven Community College, Duke Energy Carolinas, Fuel Market, Joe Alcoke Auto & Truck Sales, Martin Marietta, Morgan's Tavern and Grill, PotashCorp, Sun Journal, WERO and WRNS (NextMedia), Williams Scarborough Sjmith & Gray, Ward and Smith, and Weyerhaeuser.  At the "Educator Level": A Dog's Dream and McGladrey, LLP.  Sponsorship space is still available.
Visit the PIE website at www.CravenPartners.com to learn more about the programs and sponsorships offered by Partners In Education.
To purchase a ticket, or to sponsor this event, contact Darlene Brown, Executive Director, Craven County Partners In Education, at 252-514-6321 or via email.
Submitted by: Darlene Brown, Craven County Partners in Education