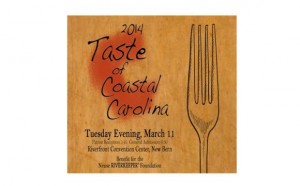 Enjoy an unforgettable evening exploring Eastern North Carolina's tantalizing culinary arts scene.  Buy your tickets before they are gone (we were completely sold out last year) for the largest and most exciting fundraiser for the NRF.  Sample amazing dishes from last year's winners; Chef Gerry Fong of Persimmons Restaurant, Chef Tom Pristash of Christoph's on the Water, Chef Smoke Boyd of The Flame, Bay Leaf's Chef Rashpal Singh, Baker's Kitchen and Jorn McDaniel from The Perfect Bite.  Lots of New Bern favorites who have participated in past Tastes will be there: Kitchen on Trent returns for its 11th year, Carolina Bagel, Moore's Olde Time Barbeque, Trent River Coffee, TaTa's Takeout, Annabelle's, Friday's 1890, and Strange & Sons Catering.  A Kinston favorite, Our Picnic Basket and Catering, and Village Food Emporium from Oriental are also returning.
This year's event will feature signature dishes from several new local restaurants and food purveyors:  Who's Hungry Mobile Kitchen, La Rosa Italian Restaurant, Craven Coffee House, Thee Catering Company, Fairfield Harbour Food & Spirits, Taco Rico Food Truck, Midtown Olive Oil, Triple Play Restaurant & Sports Bar and Cilantro's Mexican Grill.  We'll also be serving desserts from two New Bern Cupcake War winners – Breezes Delight and Digi's D'Licious Cakes.  Also new to the Taste this year are New Bern area favorites Halftime Pub and Grub, The Village Butcher, The Cow Cafe and Arturo's Mexican Restaurant.
Come enjoy food and camaraderie!  The ticket price includes UNLIMITED sampling from all food vendors.  Patron tickets are $100 per person, which includes early admission to the 'Champagne Reception', reserved seating, unlimited beer and wine at the private bar, plus "first tastes" from the restaurants.  In addition, $65 of your ticket price is a tax-deductible contribution.  There are only a limited number of Patron Tickets still available so order quickly.  General admission tickets for the Taste are $30; $35 at the door (if available – remember last year we completely sold out). Wine, beer and soda will be available for a small charge. Click on the links below to purchase your tickets!
Come enjoy the festivities and help raise money to improve water quality in our rivers.  Now, more than ever, we need your help to continue to advocate, educate and protect.
It's Easy to Buy Your Tickets Now!
Tickets can be purchased online at www.neuseriver.org
Tickets are also available in New Bern at:
Mitchell Hardware
New Bern Harris Teeter
Cravin' Wine (James City)
The Village Butcher
Nautical Wheelers (Oriental)
Submitted by: Sherrie Starr, Co-Chair, Taste of Coastal Carolina