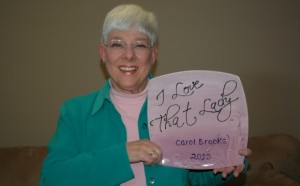 Show Some Love
Tickets are still available for the 2014 I Love That Lady recognition event. Come celebrate with us on February 27th at the New Bern Riverfront Convention Center.    Show yourself some love and sign up today for this outstanding dinner and silent auction to recognize a very special Craven County Lady. We can't tell you who it is, but we can tell you that when her name is mentioned anywhere you always hear people say, "I love that Lady!"
I Love That Lady (ILTL) was created to recognize inspiring individuals who could empower other women to take action. Aside from their commitment to the community, the ILTL Award recipients have all been women who quietly make their presence felt through their volunteer efforts and expect nothing in return but the satisfaction of helping.
This will be the fifth year that the I Love That Lady organization selects a lovely woman from Craven County to be recognized for her contributions. The doors open at 6 p.m. so you can start bidding on auction items while sipping on something sparkling. Once you've caught up with all your buddies we'll play a game we're calling Chatterbox and one lucky woman will win a super surprise box. Then after our sumptuous dinner, catered by The Flame, the lights will dim and the video will play to announce this year's I Love That Lady recipient. She will be awarded a $5000 donation towards her favorite charity.
To sign up, send an email to ilovethatlady@yahoo.com by Tuesday, February 25th and mail your check to I Love That Lady, PO BOX 13414, New Bern, NC 28562.  Tickets are $35 each and a few tables of 10 are still available so grab your girlfriends and make a night of it! For more information, visit: ilovethatlady.com.
Submitted by: Jane Maulucci, The Reactive Voice