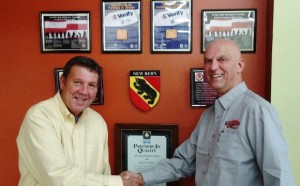 Jim Yaeger is excited to announce the opening of his new business, Fresh Coat Painters of New Bern, North Carolina.
Fresh Coat Painters offers residential and commercial painting services including interior and exterior painting, wood staining and finishing, and other services for nearly every protective coating application. They use quality, environmentally safe materials and offer a 24/7 customer service center, online scheduling and detailed quotes.
Fresh Coat also is committed to the 3-3-3 pledge, which means calls will be answered in three minutes, a quote will be delivered in three days (customer schedule permitting) and the job can be started within three weeks.
To learn more about what Fresh Coat Painters of New Bern can do for your home or business, call 866-748-2777, email jyaeger@freshcoatpainters.com or visit www.FreshCoatNewBern.com.
Submitted by: Kellie May, Fresh Coat Painters of New Bern