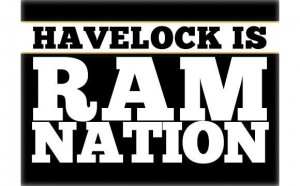 The Havelock Rams Booster Club is chartering a bus or busses to the state 3A championship football game at Carter-Finley Stadium in Raleigh on Saturday, December 14.
Cost of the trip is $30 per person and that includes the bus ride and ticket into the contest. If you would like to reserve a seat, please email hhsramsboosterclub@yahoo.com and leave your name or names of each individual that would like a seat and a phone number.
We have a 55-seat bus available with the option for more. All seats must be paid for my Wednesday, December 11. Seats will be sold on a first-come, first-served basis.
For additional information, contact Joe Hailey at 447-4134.
Submitted by: Diane Miller, Communications Coordinator, City of Havelock NC