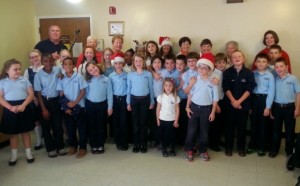 On November 21st, from 2:00-3:00 p.m., the St. Paul Singers from St. Paul Catholic School performed a concert and spread Christmas cheer as they caroled through the hallways of Brookstone Senior Center in Pollocksville.  The week before Thanksgiving has traditionally served as Brookstone's week to begin celebrating the upcoming holidays with their residents.  This year St. Paul Catholic School was selected to participate in kicking off their holiday festivities.
St. Paul Catholic School has been a rich tradition of academic excellence in the New Bern community for over 125 years.  The school is Craven County's oldest faith based educational institution and offers students an education in a safe and nurturing environment, that's rich in Catholic tradition and founded on the teachings of Jesus Christ.
Located at 3007 Country Club Road, New Bern, NC.  Visit www.stpaulcs.org for more information or call today to schedule a visit at 252.633.0100.
Submitted by: Millissa True, Owner, SBS Forward