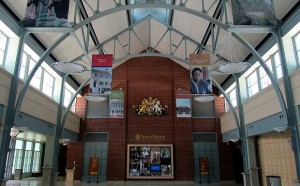 You're never too young for history!
Preschoolers and parents will visit the John W. Stanly house and learn how the Stanly family celebrated Christmas. Preschoolers will play a popular game of the season and decorate miniature edible Twelfth Night cakes.
Tickets are $6 per child with one accompanying adult free; additional adults $6, or included with regular admission
This program is designed for ages 3-5, with parental accompaniment and space is limited to 20 children. To reserve your child's spot, please call (252) 639-3500. Extra openings will be filled the day of the event on a first come, first served basis. This program is designed for individual families.
If you are a preschool teacher interested in bringing a group for a program, please contact our Groups Services Coordinator at (252) 639-3524 for more information. For more information, visit www.tryonpalace.org/christmas.php.
Submitted by: Craig Ramey, Marketing and Communications Manager, Tryon Palace