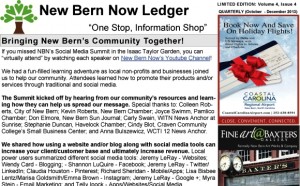 We're happy to announce that New Bern Now's October – December 2013 quarterly Ledger is available online by clicking here!
The Ledger is a handy 20 page reference for residents and visitors alike! Besides having an extensive community calendar of events, you can learn about new businesses and non-profits. Find out about some of the latest happenings in our community and check out some dining and shopping opportunities.
It will be available in print soon!
Special thanks to everyone who has contributed by sending us information and/or sponsoring this community publication.
Please let us know if you have any questions by commenting below or sending us an email.
Stay up to date on the latest happening by submitting your email in the right margin of this website or visiting NBN's business Facebook page and press Like.
Sincerely,
Wendy Card