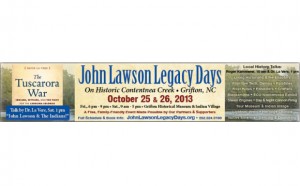 Featuring "The Tuscarora War" – A New Book by Dr. David La Vere
The third annual John Lawson Legacy Days Event will be held on Friday, October 25, and Saturday, October 26, 2013 at the Grifton Historical Museum and Indian Village, 437-A Creekshore Drive in Grifton, Pitt County, North Carolina along with a walking tour of the Tuscarora War Historic Fort Barnwell site nearby in Craven County, North Carolina. This year's theme is "Celebrating Pioneer Heritage" and is a free, family-friendly event.
The Tuscarora War (1711-1715) is one of the defining events not only in early Eastern North Carolina history, but it also influenced the later development of North Carolina. English Explorer, John Lawson along with others were key players during this tumultuous time in New Bern and the surrounding areas.
October 25: At the museum with an open house, tours of the military encampments, nighttime cannon firing along Contentnea Creek, and more. An optional Chili Supper is available for $5 per person.
October 26: 9am – 5pm. Tour the Museum & Indian Village; see Doug Meyer demonstrate Primitive Technologies; tour the military encampments and visit with Colonial, Revolution, 1812 and Civil War Re-Enactors and meet Living Historians featuring the 5th NC State Troops, Co. D, Light Infantry; the Northampton Artillery; the Carolina Living History Guild, and others; see daytime cannon firings; visit exhibitors, crafters, blacksmiths; take a boat ride on Historic Contentnea Creek; view Nooherooka artifacts from ECU with Professor Charles Ewen; see Steamy Gene's Steam Engines; view old timey toys; participate in the raffle; register for door prize drawings, and more!
We look forward to seeing you at this year's event to join us in "Celebrating Pioneer Heritage" in Grifton and Fort Barnwell. For a listing of all weekend events and details visit www.JohnLawsonLegacyDays.orgor call 252-524-0190.
We would like to thank our event partners and supporters for making this event possible:  HardeeAndHardee.com, Reflector.com, GriftonMuseum.com, Grifton.com, The Grifton Gang, VisitKinston.com, PalAm.org, AtimeForScience.org, www.CarolinaLivingHistoryGuild.com,
LightninWells.com, DavidLaVere.com, ENCFamilies.org, and The John Lawson Legacy Day Committee.
Submitted by: David French, 252-349-0102, ENC Families