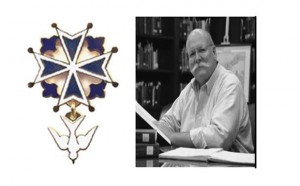 Do you have French Huguenot ancestry?  Would you like to learn more about the French Huguenots, who were French Protestants, who left France and settled in America and other parts of the world?
On Saturday, August 10th, 2013 at 12 noon, The French Huguenot Interest Group will host historian Roger E. Kammerer who recently authored "A History of The Huguenot Society of North Carolina" for a luncheon presentation and book signing.
The event will be held at The Chelsea Restaurant, 335 Middle Street at Broad Street in New Bern.  Advanced reservations are required.  The luncheon is $20 per person by Wednesday, August 7th, $25 after.  Advance book orders are available for $20 byAugust 7th, $25 at the event.  Please call to confirm and mail your check to FHS of ENC, 104 Johnson Street, New Bern, NC 28560.  Credit cards are accepted by calling (252) 349-0405.
The event is being held in partnership with The Family History Society of Eastern North Carolina.  More information about the event is available at www.encfamilies.org.
Submitted by: Amy Hammond on behalf of The Family History Society of Eastern North Carolina