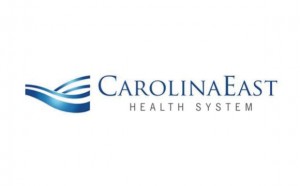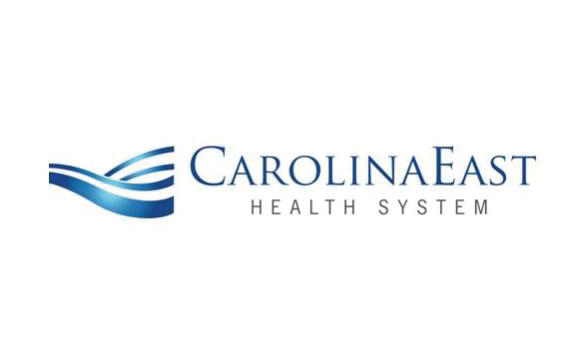 CarolinaEast is among first to receive new designation for delivering quality and cost-efficient cardiac procedures
Blue Cross and Blue Shield of North Carolina has recognized CarolinaEast Medical Center as one of the first hospitals in the nation to receive a Blue Distinction Center+SM designation in the area of cardiac care, as part of the Blue Distinction Centers for Specialty Care® program.  Blue Distinction Centers are hospitals shown to deliver quality specialty care based on objective, transparent measures for patient safety and health outcomes that were developed with input from the medical community.  This year, the national program has added a new designation level, Blue Distinction Centers+, to recognize hospitals that deliver both quality and cost-efficient specialty care.
In 2006, the Blue Distinction Centers for Specialty Care program was developed to help patients find quality providers for their specialty care needs while encouraging healthcare professionals to improve the care they deliver.  To receive a Blue Distinction Center+ for Cardiac CareSM designation, a hospital must demonstrate success in meeting both general quality and safety criteria (such as preventing hospital-acquired infections) and cardiac-specific quality measures (related to lower rates of complications and death following cardiac surgery; and non-surgical procedures, such as cardiac stent placement) and, additionally, must show better cost efficiency relative to their peers.  Quality is key: only those facilities that first meet Blue Distinction's nationally established, objective quality measures will be considered for designation as a Blue Distinction Center+.  CarolinaEast Medical Center is proud to be recognized by BCBSNC for meeting the rigorous cardiac care selection criteria set by the Blue Distinction Centers for Specialty Care program.
"Our commitment to provide quality, compassionate care to the residents of eastern North Carolina is very important to us here at CarolinaEast Medical Center," said Ray Leggett, President and CEO. "Because cardiovascular disease is so prevalent in the US and right here in our community, the CarolinaEast team works hard every day to ensure that patient safety and excellent quality of care is at the forefront of everything we do when caring for cardiac patients. This recognition from BCBSNC is important to us because it offers confirmation that all of our efforts are working very well and the people we serve are being provided with the highest possible standard of care," Leggett continued.
Cardiovascular disease is the leading cause of death in the United States, claiming nearly 600,000 lives each year.  Cardiac procedures, including bypass and cardiac stent placement, are among the most common major medical procedures provided by the US health care system, with more than 1 million procedures performed annually. These cardiac related procedures cost the nation more than $28 billion annually.  The Blue Distinction Centers for Specialty Care program seeks to reduce this burden, by empowering patients with the knowledge and tools to find both quality and value for their cardiac care needs.
"We are pleased to be working with hospitals that share our commitment to high quality care in North Carolina," said Lisa Cade, vice president of network management for BCBSNC. "Through the Blue Distinction Specialty Care Program, customers are able to take control of their health and find great care at a reasonable price."
Research shows that Blue Distinction Centers+ demonstrate better quality and improved outcomes for patients, with lower rates of complications following certain cardiac procedures and lower rates of healthcare associated infections, compared with their peers. Blue Distinction Centers+ are also 20 percent more cost-efficient for those same procedures.
CarolinaEast is one of only nine hospitals in North Carolina and the only hospital east of I-95 to receive this recognition for quality and value.
For more information about the program and for a complete listing of the designated facilities, please visit www.bcbs.com/bluedistinction.
Submitted by: Megan McGarvey, Director, Public Relations, CarolinaEast Health System