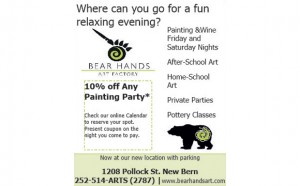 I am very excited to share a new project I am involved with. Bear Hands Art Factory is now all moved in at their beautiful new facility on 1208 Pollock Street.
Starting on Saturday evenings in September, I will be teaching Art and Wine Parties there. No experience necessary – just plan on having lots of FUN!!! These painting evenings are designed for success and social interaction and yes, you can bring wine!!! I will have the canvas all prepared for you and we will go through each creative process step-by-step!
Classes are from 6-8:30pm and all necessary materials are provided for a fee of $35. I can also custom design a party or event for you!
Here is a summary of the paintings we will be doing:
Sept. 7th – "New Bern Spires"
Sept. 14th – "Couples Kiss" – designed for 2 people to do, one canvas each
Sept. 21st – "Starry Night"
Sept. 28th – "Van Gogh's Irises"
To see all of these colorful images, go to http://www.bearhandsart.com and click on the Art and Wine Parties. Let me know soon which party you would like to attend, or contact Bear Hands at 514-ARTS (2787). Thanks and here's to Painting FUN!
Submitted by: Local Artist Sandy Bruno