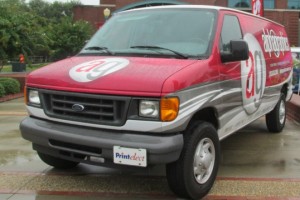 Owen Andrews, President of AlphaGraphics of New Bern and Gray Winfrey, President of Village Graphics, have announced the partnership of their two firms under the AlphaGraphics of New Bern name. AlphaGraphics of New Bern is located at 3731 Trent Road in New Bern, North Carolina.
"We are extremely excited to welcome Village Graphics to the AlphaGraphics of New Bern family." said Owen Andrews. "Both firms have strong reputations within the community and this partnership allows us to deliver expanded capabilities while growing competitive position."
According to Gray Winfrey, "We chose to partner with AlphaGraphics of New Bern because it is truly a great opportunity for both companies and the surrounding communities. AlphaGraphics is actively investing in new technologies that deliver great value in the print and visual communications industry. As a result of this partnership, our clients will enjoy many expanded product offerings."
The AlphaGraphics of New Bern team focuses on partnering with their customers to provide solutions for a full range of printing, marketing communications and document management needs. AlphaGraphics of New Bern is backed by state-of-the-art technologies, comprehensive training and extensive support.
Additionally, each AlphaGraphics business center complies with the AlphaGraphics Quality Management Program, a rigorous quality standard that helps ensure accuracy, timeliness and customer satisfaction.
The merger of Village Graphics and AlphaGraphics of New Bern will take place on August 21, 2013 as Village Graphics moves to the AlphaGraphics location at 3731 Trent Road in New Bern. Both Village Graphics & AlphaGraphics of New Bern will continue to operate uninterrupted throughout the transition.
AlphaGraphics of New Bern is open Monday – Friday from 8:00am to 5:30pm. To learn more about the company's products and services, visit the website: alphagraphicsnewbern.com, contact the team at 252-633-3199, or send an email.
About AlphaGraphics of New Bern AlphaGraphics of New Bern plans, produces and manages business and marketing communications for businesses throughout Eastern North Carolina. Located in New Bern, North Carolina, AlphaGraphics of New Bern leverages its 111 year old reputation to deliver powerful print and digital solutions. Backed by state-of-the-art technology, high quality standards and a global network, the company's trained and experienced team members are committed to delivering creative solutions that enable customers to increase their reach.
Submitted by: Michael Linden, AlphaGraphics of New Bern