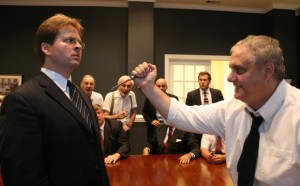 Performance dates: September 13, 14, 20, 21 at 7:30pm
and
September 15, 22 at 2pm
Directed by Alan Berger
Produced by Eileen Shalhoub
Adapted by Sherman Sergel. Based on the Emmy award-winning television movie by Reginald Rose.
Produced by special arrangement with Dramatic Publishing.
Synopsis:  A 18-year-old man has just stood trial for the fatal stabbing of his father. "He doesn't stand a chance," mutters the guard as the 12 jurors are taken into the bleak jury room. It looks like an open-and-shut case – until one of the jurors begins opening the others' eyes to the facts. It becomes personal and a new murder threat is born before their eyes! Tempers get short, arguments grow heated, and the jurors become 12 angry men. The jurors' final verdict and how they reach it will electrify you and keep you on the edge of your seat.
Longer version of synopsis: 12 Angry Men focuses on a jury's deliberations in a capital murder case. A 12-man jury is sent to begin deliberations in the first-degree murder trial of an 18-year-old Latino accused in the stabbing death of his father, where a guilty verdict means an automatic death sentence. The case appears to be open-and-shut: The defendant has a weak alibi; a knife he claimed to have lost is found at the murder scene; and several witnesses either heard screaming, saw the killing or the boy fleeing the scene. Eleven of the jurors immediately vote guilty; only Juror No. 8 casts a not guilty vote. At first, Juror No. 8 bases his vote more so for the sake of discussion; after all, the jurors must believe beyond a reasonable doubt that the defendant is guilty. As the deliberations unfold, the story quickly becomes a study of the jurors' complex personalities (which range from wise, bright, and empathetic to arrogant, prejudiced and merciless), preconceptions, backgrounds and interactions. That provides the backdrop to Juror No. 8's attempts in convincing the other jurors that a "not guilty" verdict might be appropriate.
12 Angry Men is a must-see, not only because the performances of the actors are irreproachable; not only because the script is truly great; and not only because the drama was captivating. 12 Angry Men is a play that teaches us a lesson in life: Anyone judging others is himself being judged.
Tickets: $17 in advance, $19 at door, $10 for Students and Active Duty Military with ID*. Tickets can be purchased by calling the box office at 252-633-0567 or by ordering online at www.newberncivictheatre.org. Visit us at www.facebook.com/newberncivictheatre.org
For more information, visit the New Bern Civic Theatre at 414 Pollock St. or call 252-634-9057.
Submitted by: Gayle Albertini on behalf of the New Bern Civic Theatre