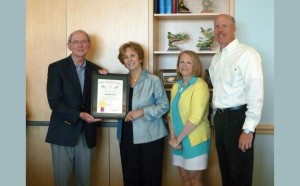 At the June 20 Swiss Bear Downtown Development Corporation board meeting, Chairman Bob Mattocks presented Susan Moffat-Thomas, Swiss Bear Executive Director with the Order of the Long Leaf Pine Award for her extended career in downtown revitalization, preservation and for her service on numerous state and local committees and boards.
The Order of the Long Leaf Pine, created in 1965, is among the most prestigious awards presented by the Governor of North Carolina to individuals who have a proven record of service to the state, their communities and many years of service to their organization.
In her remarks, accepting the award, she said she was "very appreciative of having the honor and good fortune to work for Swiss Bear organization for the past 28 years and be a part of an organization whose accomplishments are tangible and measurable and have enhanced the quality of life for many citizens."
Swiss Bear DDC was established as a 501(c)(3) nonprofit to stimulate and coordinate the revitalization of the downtown and redevelopment of its waterfront in partnership with local government. New Bern's award-winning downtown revitalization effort is widely recognized throughout the state as a Main Street success story.
Submitted by: Amy Hammond, New Bern Riverfront Convention and Visitors Bureau