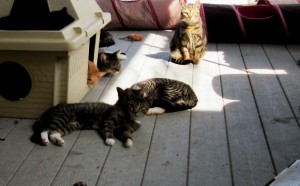 We are proud of our Affordable Prevent a Litter Campaign. We, along with Animal Care Center, offer affordable spay/neuter to needy people that cannot afford to have their dogs or cats neutered on their own. We subsidize each and every procedure, bringing the price down to a level where more people can take advantage of these services.
We cannot do this without community support. Our main means of fund raising is our Fall Raffle Ticket Campaign. We distribute packets of tickets to newspaper boxes with the hope that they will be returned with generous contributions. This is the foundation of our program.
We need volunteers to help distribute these packets. You can do as much or as little as time and energy allows. You can do your development, cul-de-sac, street or community.
They can be distributed while on your daily walk, riding in your golf cart or bike or you and a friend can put them in boxes while driving around in your car. We hope to begin after Labor Day and continue as long as it takes for the Thanksgiving drawing.
If you are interested in helping us out, call Shiela Rohner at 252-636-0510.
Your help and support is appreciated by all of at Pals for Paws and the pet owners and animals whose lives we impact.
Submitted by: Bonnie Compton, Pals for Paws