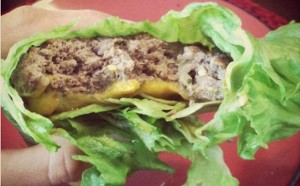 I love a good burger. I mean I really love a good burger. Summer comes around and there are few things that I love more than have a good cook out with burgers on the grill.
So in honor of summer, I've decided to share one of my favorite burger recipes with you.
You may not know, but most BBQ sauces are absolutely loaded with sugar. This doesn't help out at all during beach season, so as a bonus, this one includes a healthy BBQ sauce.
Ingredients:
– 2 pounds ground beef (formed into 4-6 hamburger patties)
– 2 Tbs. Worchestershire Sauce
– 1 clove garlic diced
– Salt to taste (optional)
– 12 slices bacon (option: substitute turkey bacon)
– 1 yellow onion, chopped
(Optional BBQ Sauce):
– 1 (15 oz) can tomato sauce
– 2 Tbs yellow mustard
– 2 Tbs apple cider vinegar
– 2 Tbs soy sauce
– 2 Tbs stevia
– 1/2 tsp garlic power
– 1/2 tsp salt
– 1/2 tsp pepper
Directions:
In a large bowl, mix the hamburger, Worchestershire sauce, garlic and salt and form pattys.
Cook hamburgers on the grill as desired.
In a large nonstick pan, cook the bacon until crispy.
Remove from pan and drain off about half of the grease left in the pan.
Add the onion to the same pan you cooked the bacon in and cook until soft.
In a medium bowl, mix all the ingredients in a small bowl for the BBQ sauce. Once it is a smooth, even consistency, it is ready to serve.
Serve and enjoy! As a healthy alternative to a bun, I will often rap my burger in lettuce and enjoy it that way. (See my bun-less burger photo above!) I hope you liked this one as much as I do! Check out more great fitness friendly recipes at our website.
Submitted by: Kate Horney, BeyondFit Physiques