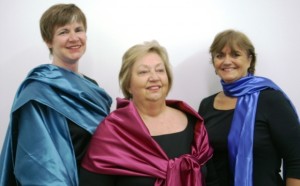 Tryon Palace, Craven Arts Council to Host 'Milestones in Music' Concert on May 31
Tryon Palace and the Craven Arts Council will sponsor the Voci Allegre vocal ensemble's free concert, "New Bern: Milestones in Music." This vocal journey through New Bern's history will be held at 6 p.m. on Friday, May 31, at Cullman Performance Hall.
Voci Allegre's concert traces New Bern's history through music with a sentimental journey that starts with the arrival of settlers and moves through the colonial and federal periods. Two of the program's main highlights revolve around the tumult of the Civil War and the time in which Pepsi-Cola was first developed. Other stops along the timeline include: a madrigal, selections from Gilbert and Sullivan's "The Mikado," the Marines' Hymn and New Bern's aptly named Racetrack Road.
Founding director Lorraine Hale and singers Brenda Parker Hardee and Yvonne Templeton will be joined by accompanist Barry Templeton for this musical memoir.
"New Bern: Milestones in Music" is a free concert that begins at 6 p.m. inside Cullman Hall, which is located in the North Carolina History Center at 529 South Front Street. For guests with hearing difficulties, special devices are available and should be requested at least 48 hours in advance of the performance.
For more information call Craven Arts Council and Gallery at 252-638-2577 or Tryon Palace at 252-639-3500.
Submitted by: Amy Hammond, New Bern Riverfront Convention and Visitors Center for Craig Ramey, Marketing and Communications, Manager, Tryon Palace