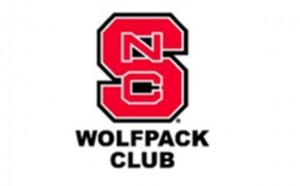 NC State Football Coach Dave Doeren to Speak at the Event
The Wolfpack Club, NC State's fundraising organization for athletic scholarships and facility enhancements, announced the next stop in the 2013 Coaches Caravan will be New Bern, NC.  The event will be held at NC History Center at Tryon Palace (Mattocks Hall) on Monday, May 6, 2013.  New NC State head football coach Dave Doeren will address fans in attendance.  This year, the Wolfpack Club's Coaches Caravan will visit 17 cities throughout North Carolina as well as New York City.
"We are excited to host our Coaches Caravan again this year," said Bobby Purcell, Executive Director of the Wolfpack Club.  "The New Bern stop should be an exciting event, as it is one of the first opportunities for Wolfpack fans to meet NC State's new football coach, Dave Doeren."
After an extensive coaching search at the end of last football season, NC State hired Northern Illinois University coach Dave Doeren after he led his team to a second straight MAC championship. Attendees will be among the first to interact with and hear from Doeren about the upcoming season.
The event will be held at NC History Center at 529 South Front Street on Monday, May 6, 2013. Doors will open at 5:30 p.m. with the program beginning at 6:30 p.m.  Tickets are $30 for adults, $15 for children ages 12 and under, and free to children under 5 years old.  All Coaches Caravan stops are open to Wolfpack Club members and the general public.
As a part of the "Championship Commitment" campaign, Wolfpack Club members are encouraged to show the same commitment to NC State athletics as student-athletes display every day. Members can demonstrate their commitment by attending caravan events, traveling to NC State away games, hosting watch parties for important games and donating to the Wolfpack Club. Additionally, current members are encouraged to bring non-Wolfpack Club members as guests.   The caravan stop will feature raffles, prizes and NC State apparel for sale.
For questions about the New Bern stop, contact Johnny Robinson at 252-617-0800 or by sending an email.  The reservations are available on a first come first serve basis.
For more information regarding the New Bern 2013 Coaches Caravan stop and for other Wolfpack Club events and information, please visit www.wolfpackclub.com or call 919-865-1500.
About the Wolfpack Club:
The NC State Student Aid Association Inc., known as the Wolfpack Club, is a non-profit organization which provides private financial support for athletic scholarships and facilities for the NC State University athletics department. Nearly 8,000 male and female students have received scholarship assistance since the Wolfpack Club was founded in 1936. The Wolfpack Club is made up of over 19,000 generous donors who support NC State athletics annually. Additionally, it provides communication and services for all friends of Wolfpack athletics. To learn more about the Wolfpack Club, log onto www.wolfpackclub.com or call 919-865-1500.
Submitted by: Margaret Pentrack, Intrepid Marketing Group