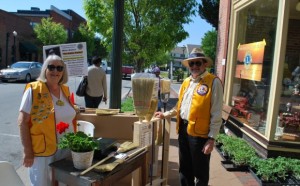 The Twin Rivers Lions Club will hold two fundraising events in downtown New Bern on Friday and Saturday, April 12-13th.  They will have their second annual Broom Sale in front of Mitchells Hardware.  Several types of brooms will be available for purchase including the popular Deluxe House Broom, the larger Warehouse Broom for sweeping garages and porches, the Maxi-Soft Plastic Angle Broom for sweeping toe spaces under your kitchen cabinets, a Toy Broom for the kids, and the long-time standby Whisk Broom.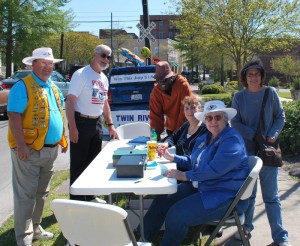 The second Lions Club event will be their annual Camp Dogwood Raffle Ticket Sale at the corner of Craven and South Front Streets just a few steps from Mitchell's. The Grand Prize is the winner's choice of one of three 2013 Chrysler vehicles; Dodge Ram, Dodge Caravan, or Chrysler 200.
Funds from broom sales are used to support Lions projects for the local blind and visually impaired. Projects include eye exams and eye glasses for the needy, free eye screenings with the Lions Mobile Vision Van, and supporting clinical eye research.
Funds from the raffle are used to support the Lions Clubs' Camp Dogwood, a Recreational Facility for the Blind on Lake Norman. The Twin Rivers Lions Club looks forward to this annual event and hopes to sponsor about 30-35 Blind Campers for a week this year at Camp Dogwood.
Raffle tickets and brooms will be available for sale 9:00 am to 4:30 pm each day.  For additional information regarding raffle tickets contact Gene Peele (635-1684) or brooms contact Jim Dugan (637-5319).
Submitted by: Gene Peele, Twin Rivers Lions Club