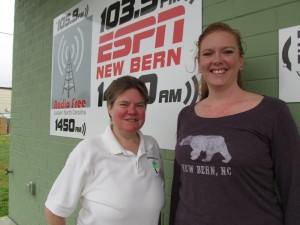 Laura Johnson enjoyed interviewing Meg Wethington about the upcoming Spoken Word Poetry Expo. Listen to the interview on Radio Free ENC's WNOS 105.9FM or 1450AM or here:
Meg announced that April is National Poetry Month and she's excited to be part of the Spoken Word Poetry Expo on Saturday, April 20 at the Isaac Taylor Gardens. She said, "Spoken word poetry is a kind of performance art, in other words, this ain't your Grandma's poetry. Just ask anyone who's heard me".
She's proud to announce that Artists Kendal Turner, CP Maze, Tavis Brunson, and Kevin Lewis are traveling from both North and South Carolina to be with us on Saturday night. She said, "You will find all five of us have very different styles of performing and that's what the Spoken Word Expo is all about. The purpose is to unite our community by uniting the unique visions and voices of poets. We hope the Spoken Word Poetry Expo becomes a happening annual event that grows and grows every year and becomes part of the SOUL of New Bern".
Visit the Spoken Word Poetry's Facebook page to "find out more about this year's poets and get their incredible bio details and backgrounds".
The Isaac Taylor Garden is home to the Greater Good Gallery, both of who are sponsors of the Expo. The Gallery will be open for public viewing at 5pm wit the event starting at 6pm. Tickets are $20 and include the price of beer and wine. Food will be available for purchase courtesy of MJ's Raw Bar and Grille. "Award winning New Bern Chef Tank Wethington will be grillin' up all the goodies".
This special event is sponsored by Ratio Theatre Company; ViaMark Advertising; Doubletree by Hilton Downtown New Bern; Life is Good – A One World Shoppe; Surf, Wind and Fire; and R.A. Jeffreys.
Tickets can be purchased at the door or pre-purchased on the Isaac Taylor Gardens website: www.itaylorgarden.com
Meg said, "Feel free to bring a comfy chair, blankets, and any non-alcoholic beverages. We want you to come out and relax and enjoy yourself, bring all your friends, and let's just plan on having a great time, rain or shine. New Bern has never seen anything like this and I am so happy to have the opportunity to share the Gift of Poetry with you!"
The Isaac Taylor Gardens gate will open at 5pm; expo starts at 6pm at 228 Craven St.
Special thanks to Meg Wethington for telling us about this exciting new event!
Tell us what you think by commenting below or sending us an email. Visit New Bern Now's Facebook page or sign up for the latest updates by submitting your email address in the right margin on New Bern Now's website.
Wendy Card